whew – well, that's all for me for now..busy morning with EMMA's EXCITING ENGLISH EXPERIENCE and FORT ERIE and more..
ttfn
EMMA IS AWARDED THE "RIDE OF THE DAY" Prize and then got a bottle of champagne dumped on her head. Way to go Emma!
10:54 –   tough luck, MAJOR CRISPIES fades and is not in the top 5 but what a day for EMMA JAYNE WILSON, 2 wins and a near miss at Ascot and she made us proud! Let's greet here upon her arrival tomorrow and cheer her on! Don't forget the LONGRUN party next Friday night too!
This fnal race of the Cup went to one of 2 Euro runners…
10: 52…going into the gate….
10:45 horses warming up for 6th race – a 6 furlong dash – SHERGAR CUP – Emma on Major Crispies at 8 to 1, number 3 – needs a 5th or better to win the SILVER SADDLE trophy – but 2 wins and a near miss on the card – wow!
PAST WINNERS OF SHERGAR CUP and SILVER SADDLE

Year     Winning team     Points     Captain     Silver Saddle winner            Points
2000     Great Britain and Ireland     157     Pat Eddery     Michael Kinane (GB&IRE)     45
2001     Rest of the World     125     Frankie Dettori               David Flores (ROW)     45
2002     Great Britain and Ireland     137     Kieren Fallon     Richard Hughes (GB&IRE)     45
2003     Rest of the World     146     Frankie Dettori                     Kieren Fallon (GB&IRE)     43
2004     Rest of the World     138     Frankie Dettori                    Weichong Marwing (ROW)     37
not held at 2005
2006     Great Britain and Ireland     153     Jamie Spencer     Ryan Moore (GB&IRE)     50
2007     Rest of the World     87     Hugh Bowman                   Hugh Bowman (ROW)     36
2008     Europe     94     Gérald Mossé                                       Gérald Mossé (EUR)     50
2009     Ireland     101     Richard Hughes                                 Richard Hughes (IRE)     49
2010     Ireland     80     Richard Hughes                                      Francis Berry (IRE)     35
2011     Ireland     80     Richard Hughes                                       Paul Hanagan (GB)     35
2012     Rest of the World     89     Yutaka Take                            Matthew Chadwick (ROW)     45
2013     Europe     97     Gérald Mossé                                                Gérald Mossé
10:36 – GIRLS TEAMS led by Emma-Jayne Wilson is 2nd with 63 points in Shergar Cup, 66 for World team – Emma can win the SILVER SADDLE with 5th or better on number 3 MAJOR CRISPIES  in about 12 minutes!  He is 10 to 1
10:25 – BREAKING NEWS – EMMA-JAYNE WILSON will win the SILVER SADDLE at the SHERGAR CUP today IF SHE IS 5 TH OR BETTER in this final race!
10:23 – EMMA-JAYNE and her horse ASTRONEREUS beaten a nose by Olivier Peslier and Our Gabriel – Emma had whip knocked out of her hand inside last 10 jumps
10:20 – WOWEEEEE- ASTRONEREUS and EMMA-JAYNE WILSON in photo to win 1 1/2 mile handicap as race 5 SHERGAR CUP
10:14 – Emma's horse getting re-saddled – Emma kisses her charge as she wait – ASTRONEREUS IS 6 TO 1
10:02 – Emma is being Tweeted everywhere right now – a true ambassador for Canadian/Ontario racing and for the safe retirement of racehorses – she sponsors and owns retired racehorses and she does a lot for LONGRUN THOROUGHBRED RETIREMENT SOCIETY – buy a ticket to THE BUCK STOPS HERE party at Woodbine next FRIDAY NIGHT and say hello to EMMA! visit www.longrunretirement.com
9:56 – 19 min to post for race 5 of SHERGAR CUP – Emma's task a bit tougher here – longshot ASTRONEREUS has won 1 of 4 and faces big fave WRANGLER with Frankie Dettori.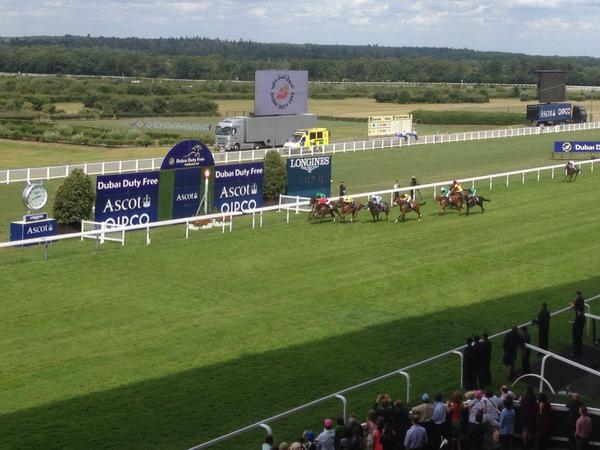 50 – 47 Girls over World in points
9:44 – Strong finishing ride by Emma as several runners charged to the wire and her chestnut fellow won by a long neck with Emma flat out riding with her body. 2 wins for Emma as she lifts GIRLS TEAM to the lead in the SHERGAR CUP at Ascot – 2 races to go!
9:42 – ARE YOU KIDDING? EMMA-JAYNE WINS AGAIN!  Don't Call Me stalks inside, splits horses and won thanks to a strong finishing ride!
9:38 – scores so far 42 for Europe, Girls in 3rd with 35..
9:34 a.m. – 10 horse field in this 1 mile Shergar Cup – Emma is on 7yo gelding DON'T CALL ME, seeking his first win in a couple of seasons
 9:31 – so much going on in racing right now..back to business at ASCOT – 7 minutes to race 4 in the SHERGAR CUP – Emma is fresh off her big win and now she is on a 5 to 2 co-favourite – DON'T CALL ME for the 1 mile Shergar Cup event..
9:27 BREAKING NEWS...CARL PALADINO buys property of FORT ERIE RACETRACK… http://buffalo.twcnews.com/content/news/759511/paladino-purchases-land-that-includes-fort-erie-race-track-in-canada/
LIVE BLOGGING CONTINUES..race 4 COMING UP IN  SHERGAR CUP!
Here is today's news from Woodbine racing on Friday and an UP WITH THE BIRDS Arlington Million report..
FREAKY FRIDAY, part..56?
Every Friday can often offer the longshot bettors some wild results and nice payoffs. That was the case yesterday when favourites were getting dusted all over the place on a warm, sunny day.
Friday's tend to have weaker classes of horses and as this is the time of year when horses are coming off vacation while others are tired, it is sometimes known as the "Ugly season" (horses with ugly form are waking up!).
The fastest race of the day from a Beyer Speed Figure standpoint was the starter allowance on the grass that featured the return to the races of Queen's Plate winner MIDNIGHT ARIA. Sidelined since his Plate win, the colt was returning in a one mile grass race, a reachable spot on a surface he likes.
The Tucci Stables runners broke well and was close to the hot early pace but he soon faded and wound up last.
The 25 to 1 winner in the small field was Laurie Silvera's COURTVILLE,  a 5yo by the late Saffir (2 winners for that sire on the card). This guy had been dull this year and had a 69 and 76 Beyer in his last 2 grass outings. Somehow he blew away this field and he posted an 86 Beyer Figure. It was his first race without blinkers.
MORE FRIDAY –
Race 1 – SHOW SHAPE dropped from maiden allowance, Ontario sired, to win this $20,000 claiming race for 2-year-old fillies by 5 lengths for Kyle Griffith and his dad Ricky. The Saffir – Show Special by Smarten gal was 1st time with Lasix and Justin Stein rode.
Race 2- maiden fillies for $16,000 and rallying from off the pace to win was Silver Duck Racing's FIVE BARLEY LOAVES who got all the bread in her 7th career race. Blinkers on was a move here as well as the drop from maiden allowance, Ontario sired, to maiden claiming. This gal is by Piccilo Pete out of Market Peak by Peaks and Valleys and Suzanne Drake trains her homebred. Skye Chernetz rode.
Race 3- say GOODNIGHT HAWK. This 5yo Tomahawk gelding got a long lead in :23.00 for the first 2 furlongs in this $12,500 claimign event at 6 1/2 furlongs and he was long gone. It was his 2nd race of the year and his 2nd win. Luis Contreras rode for Denny DePetrillo, Don Grant and partner. Kevin Attard trains. Claimed from the race was SPEYSIDE from Bear Stables, who was dropping from allowances and he landed 4th.
Race 4- an allowance race at 1 mile on the grass for Ontario sired fillies and mares and this was a freaky race as the top 3 favourites filled the last 3 spots while longshots rolled in.  ZAZINGA stalkesd along the inside and powered through to win her grass debur for Bev Lewis-Owens and Steve Owens who bred the Head Chopper gal. This is a half sister to the couple's stakes winning 2yo SEFFEARA. Head Chopper is their own stallion and he was 3rd in his only grass race. Zazinga was well ridden by Gary Boulanger. She was  22 to 1 and 2 lengths clear of 18 to 1 shot NINJA QUEEN.
ZDENKA, at 66 to 1, was 3rd and MARATHON RUN at 82 to 1 was 4th.
yes, someone had the superfecta (a 20 cent one) – pool was $22K, payoff for $1 was $84,000. ca ching.
race 5 – maiden 3-year-olds for $8,000 and BREWCREST, owned by the famed Langcrest Stable, owned by Irving Langill. The winner was turning back to 7 furlongs from a route race where he had showed speed in a 1st Lasix turn. John Charalambous trains this Milwaukee Brew homebred. Langcrest was a top son of Nearctic who had the misfortune of being foaled in 1961 – he was 2nd to Northern Dancer in the Queen's Plate.
Race 6 – Maidens for $16,000 going 1 1.16 miles and looking like Arazi on the turn, ZIPPER SOLO was on the fly and zoomed to the lead in early stretch, then held on barely by a nose to win for Sammy DiPasquale, who claimed the colt for himself for for $10K last time out. Luis Contreras rode this Indygo Shiner colt who was making his 6th start.
Race 7 – an $8,000 claiming race for non-winners of 2 and a strong pace set things up for closers…this corner loved I'm No Fairytale at 9 to 1 and he rallied wide in the late stages and landed almost on even terms with CAPE ZAVATA but lost by a nose. This eas  the 2nd win of the meeting for Larry Cappuccitti and the 5yo gelding was making his 15th career start. Skye Chernetz rode the Box Arrown Farm-bred by Cape Town.
Race 9  – a maiden allowance for Ontario sired guys at 1 1/16 miles and it was Dante Paglioroli's HABEMUS PAPUM (We Have a Pope!) who rallied to win in his 6th career race, 8 to 1 under Justin Stein. I picked this gelding last time and he was 5th – today, it was blinkers on (red-hot angle) for trainer Paul Attard. A Windhaven-bred by Milwaukee Brew.
BIRD FLIES IN WORK FOR MILLION – REPORT FROM BRISNET.COM
Sam-Son Farm's Up With the Birds, the reigning Canadian Horse of the Year, put in his final major move on Friday morning before taking on some of the world's best in the Arlington Million next Saturday. At his home base of Woodbine, the son of Stormy Atlantic worked five furlongs on the firm training turf in 1:01 2/5, earning the second-fastest of 18 moves at the distance.
Trainer Malcolm Pierce, who had previously stated that the talented four-year-old was a slow work horse, was very pleased.
"I'm very happy with his work today," Pierce stated. "Everything went according to plan and as of right now, that's our final breeze before we head to Arlington.
"I think they put a lot of water into the turf last night because it seemed to have a lot of give in it and was a little less than firm," Pierce continued. "With firmer turf, I think his work would have been a second faster. He needed company, so I had him chase two horses and he caught them pretty well. I couldn't be happier."
A Grade 1 winner in the United States, classic victor in Canada and conqueror of seven of 12 starts, Up With the Birds exits one of the most impressive victories of his career — a four-length drubbing in facile style — in the Nijinsky Stakes at Woodbine on July 19.
Pierce was asked if a small field in the Million affects his game plan for the late-running Up With the Birds.
"I think the pace affects everyone and I will leave that in the hands of the jockey," the trainer concluded, alluding to regular rider Eurico Da Silva.
read more news at
http://www.brisnet.com/cgi-bin/editorial/news/article.cgi?id=45896
9:07 – RACE 3 of SHERGAR CUP 1 1/2 mile handicap – Emma sits this one and the winner is from the Green England.Ire team, SEMEEN (Queally) while the Girls, Stefanie Hofer is 2nd at 25 to 1!
8:49 – Emma has a race off to savour and enjoy her ASCOT win, no mount in 3rd race of competition, stayed tune for her try in race 4..
8:46 – to Ascot and the press.. "That was wonderful," said an elated Emma-Jayne Wilson. "It is what I came to do and riding a winner here today means everything."
8:45 – Emma-Jayne punched the sky as she won at Ascot – what a thrill for our jock!
8:35 – REMARKABLE!! Congratulations to Canadian EMMA-JAYNE Wilson who gave RETIREMENT PLAN a super ride to win the 2 mile SHERGAR CUP stayer race, race 2 of the Shergar Cup Jockey Challenge. 4-year-old stalked inside throughout, eased out and wore down front runner to win by about 1 1/2 lengths
8:27 – Rest of the World with 20 points in 1st, Girls team in 3rd with 7 points..heading to the gate for the Stayers Handicap – RETIREMENT PLAN with Emma up, is 9 to 2 for this 2 mile marathon!
8:12 – 2 mile SHERGAR CUP STAYER RACE up next …Emma's mount, RETIREMENT PLAN, is a lightly raced 4yo colt by Monsum owned by K. Abdullah, trained by Lady Cecil – currently the 7 to 2 favourite
8:04 – popular Emma-Jayne andone of her interviews..http://www.cheltenhampro.com/category/cheltenham-news/shergar-cup-2014-wilson-hofer-and-turner-hoping-girls-are-on-top-at-ascot-201408070001/
8:02 – Emma's mount in the stayer race coming up is a contender, RETIREMENT PLAN..her first mount MASAMAH, older fellow who floated up to 9 to 1 and was making his 50th start – remember, gals in Pink silks
7:58 – Old timer MASAMAH, with Emma on board, can't stay after early lead and fades to last, but just 6 lengths behind winner GOLDREAM, for the REST OF THE WORLD TEAM (Craig Williams rides). Hayley Turner picks up points for Girls with (3rd place finish)
7:50 – Hayley Turner's mount has been acting up badly.. pre-race..GIRLS TEAM will wear pink silks in the races
7:47 – PINK silks for Emma-Jayne for this 1000 metre dash (5 furlongs), the first event of the SHERGAR CUP. Four teams, Wilson is on the GIRLS TEAM..points for 1st 2nd 3rd and 4th and 5th.  6 RACES in the competition. Frankie Dettori seems to have drawn some good mounts.
7:42 a.m. EMMA-JAYNE WILSON is getting up on MASAMAH in race 1 at ASCOT today for the SHERGAR CUP. This is a pretty grey gelding, an 8yo, trained by Marco Botti. He is currently 9 to 2.
SHERGAR – one of the greatest, Emma-Jayne 20 to 1 to win Shergar Cup
follow along Saturday morning on THOROUGHBLOG!..ENTRIES ARE HERE…  http://www.racingpost.com/horses2/cards/meeting_of_cards.sd?crs_id=2&r_date=2014-08-09&tab=sc_
from ASCOT.CO.UK
Ahead of the Dubai Duty Free Shergar Cup on Saturday 9th August, we look at the horse that gave its name to the event – Shergar.
Shergar's name is etched in racing folklore as much for his headline-grabbing demise as for his exceptional performances on the racecourse, the most scintillating of those being his record-breaking victory in the 1981 Derby.
Famously kidnapped by the IRA following his retirement to stud, the Aga Khan's colt was one of the finest Derby winners of the 20th century and without argument the best racehorse of his generation with a lofty Timeform rating of 140
http://www.ascot.co.uk/