Will it be SAM-SON FARMS, CHIEFSWOOD JOHN OXLEY, TUCCI OR THE HORSE RACING LEAGUE, or someone else? The Queen's Pate – the biggest sporting event in Canada today!
IN TODAY'S TORONTO STAR (www.thestar.com) Malcolm Pierce talks about the "big jinx", the Coronation Futurity winner and the plight of coming back a year later to win the Plate – UP WITH THE BIRDS tries to beat that today as the Plate fave (the last one to do it was NORCLIFFE in 1975).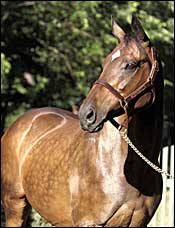 Dance Smartly – famous Plate winner, has race named for her today
HATS, HORSESHOES, OWNERS, TRAINERS, BREEDERS and the hard working backstretch people
No matter who you are or  where you are, we are celebrating the best of horse racing today with the 154th QUEEN'S PLATE (5:38 p.m.), the race first won by DON JUAN.
Woodbine is decked out in its best dress – the paddock area was a hive of activity yesterday at staff put together HATS AND HORSESHOES, the fashion, food and racing-watching and betting place to be at the track!
Walk in an have your photo taken on the red carpet!
1935 Fashion at Woodbine
The supporting race card is stellar, with races such as the CLARENDON for 2yo's, the DANCE SMARTLY, SINGSPIEL and HIGHLANDER building up the excitement.
American jocks invade, the heat will be stifling and hopefully the rain and thunder will hold off.
Most importantly, it is the horses we will watch and wager on and may every starter be safe and be given lots of love afterwards.
Enjoy!