Check out this week's IN THE WINNER'S CIRCLE podcast from the HBPA – Renee Kierans flies solo and reviews, previews and interviews!!
Racing recaps from this week, news and other bits, ending with a sad story from Hollywood Park.
All that.. JAZZY ALEXIS (brown silks) ralies to win Wed. night for J and G Murphy Holdings and trainer Carla Christoffersen. Norm Files photo
WEDNESDAY NIGHT
So how was racing the first card after the flash flood?
Pretty good actually.
It was an outside, closers track so any horse trying to lead all the way was going to have trouble and can be pegged for next time.
JABALI was well prepared off the long layoff by trainer Kevin Attard and he won the first race for $7,500 claiming for Hidden Springs inc. The 6yo by tactical Cat had not raced since December
race 2 went to WE'LLSEEABOUTTHAT, a Graeme Hall filly out of Keep a Knockin by Pleasant Tap who was bred by her owner Murray Stroud in Ontario. The winner was a predictable favourite at 2 to 1 in the move from turf to Polytrack and down to $40,00 claiming.
race 3 was off the grass and the once win-shy COLD HARBOR, now 8-year-olds old, won for the 2nd time in 2013 in this $30,000 claiming race. This son of Distorted Humor is owned by Fieldstone Farm Inc. and he is 6 for 54 now.
Also winning for the 2nd time this year was LYNNESSA, a 4yo by Old Forester – Miners Bay by Geiger Counter who is 2 for 2 under Tommy Wong for owner Philip Lanning. Ron Sadler trains. The race was an Ontario sired allowance event.
Trainer TOM BOWDEN got his first win of the season when STRAWBERRY SCARLET rallied wide to win the 5th race for $10,00 claiming. The grey D'wildcat 4yo, nred by the famed WINDFIELDS FARM, is owned by Bradscot Farm.
instant success off the claim for J and G. Murphy Holdings Ltd. when JAZZY ALEXISF won race 6 for maidens, $32,000. The Afleet Alex filly was claimed by the owners and trainer Carla Christoffersen on June 2 for $32,000, waiting the 'jail time' and then won with blinkers off in the 2nd career start. She had 12 to 1.
race 7 was won by  STEP UP N DANCE for CEC Farms and trainer Ralph Biamonte (who, incidentally, lost Jazzy Alexis first time out to Murphy Holdings). This gal was winning her maiden for $10,000 and she is an Ontario bred by Showing up from Dancing Cherokee by Yonaguska. She was making her first start since December.
The last race of the night went to BEARS GRACE who had been using up her energy too much in 2 – turn maiden races but at 7 furlongs, she won in her 8th career race. She is owned by Bear Stables and trained by Mike DePaulo. The price for the maiden race was $25,000 claiming.
FRIDAY RACING
RAINBOW'S BEST kicked off the afternoon (post time on Friday appeared to have changed to 12:55 instead of 12:50) and this is a son of Best of the Bests (who recently moved to Alberta). The winner was taking his 5th score in the $7,500 claiming race.
Two claims from the race – QUARTERBACK to Alan Bird and STEADY STUART to Armand Concessi.
race 2 had the big dropper WONDER PHIL in the race. The Frank DiGiulio 5yo had not won since a couple of season and had been nibbling at the Ontario sired allowance class for a long time. Friday he was down to $10,000 claiming, made a move on front runner Guest Appearing but then hung and the front runner came back to beat him. The winner is a homebred for Nancy Guest and making his first start since a 25 length drubbing for $20,ooo in May.
JIm and Susan Hill kept up the winning streak when MOONRITE won on the drop from $40,000 claiming to just $16,000 for race 3. The $135,000 yearling purchase was making her 5th career race in the maiden event. She is by Malibu Moon. She was not claimed but 7th place finisher Gliter Passion was, by Michelle Love.
Off the turf and race 4, a maiden claiming event for $50,00 went to WILL HE WON'T HE, a nicely bred Langfuhr 4yo bred by Firestone Farms. The owner is C S Dowson Farms and trained by Robert Williams. It was the gelding's 12th start, and he won by 7 lengths.
Race 5 was a maiden race for $10,000 and the winner  was FOREVER A PEARL, a Minshall farms bred by Van Nistleroy. The winner is owned by Natural Eight Stable, Robert Shultz and Janice Koval. The winning trainer was William Tharrenos.
Race 6 did not go the way many thought – favoured RONALDINO was 5th, longshot OLD BLUE EYES was liked by many but he was last.
the winner was GLORY GAME, a gelding previously owned by Bear Stables. new owner is Carla Christoffersen who dropped the son of Medallist down from $16K to $11,500.
A rare speed winner came in race 7 – LIP SINGER, the BEST BET in the TORONTO STAR won on the drop from allowance to $10,000 claiming with Lasix and blinkers added. Laurie Silvera owns and traines the 3 by Silent Name out of Hippicritical. Sheena Ryan rode the winner.
TUCCI STABLES, fresh off the Plate win, won race 8 with EASTERN ATLANTIC, who was making her 3rd start off the layoff; Todd Kabel rode the Stormy Atlantic filly.
The last race on Friday came off the grass and the all important Also Eligible list came alive with PUGSLEY winning for Tallyho Stable and Openwood Farm  and trainer Earl Barnett.
The owners of Tallyho  are part of the Caledon Hunt Club . Puglsey is by Mobil out of dancing Leaves and he actually looked better in the race for grass. so who knows!
TRANSITION PANEL AND CONSULTATION MEETINGS
ELMER BUCHANAN had this to say at one of the meetings his past week:
The one point that I want to discuss is your future and what it depends on," Buchanan said. "It is more than about the money, it is about the customer. And today we had some serious horseplayers in the audience… they are your customers, they are your future… your future depends on how many people are coming to the track and how many people are coming to the track and betting… The government is going to support you based on how many customers you have and how much money they [wager], so that's your future… Everyone, collectively, has to think about how you attract bettors and customers to the track and regain interest in the industry."
Buchanan went on, adding, "I said this yesterday: two years ago if we had one of these (industry consultation sessions) I don't think we would have heard 'customer' or 'horseplayer' mentioned. It would have just been about how much money there was and how we were going to divide it up.
"The future depends on the customer — the same as McDonald's, it depends on how many hamburgers they sell. This business depends on how many dollars are coming through that (wagering) window — that's what you're all about." – Elmer Buchanan, Transition panel
http://www.drf.com/news/hearing-woodbine-discusses-future-racing-ontario


TOP CANADIAN BRED TAKES ON BOYS
SUNSET H.-GIII, $100,000, 3yo/up, 1 1/2mT
PP HORSE SIRE JOCKEY TRAINER WT
1 Dhaamer (Ire) Dubai Destination Leparoux Mitchell 121
2 Marketing Mix K Medaglia d'Oro Stevens Proctor 119
3 Only the Gold K Medaglia d'Oro Stra Belvoir 108
4 Extensive Purge Garcia Cerin 113
5 Hawk's Eyes (Brz) Public Purse Espinoza Avila 117
6 Why Not Be Perfect Whywhywhy Sanguinetti Metz 115
ALBERTA – NORTHLANDS PARK NEWS
Broadway Empire shipped up from Tinseltown and was the star of the show on Saturday, as he galloped to a huge win in the $50,000 Ky Alta Handicap at Northlands Park. Sent off as the 4/5 favorite, Broadway Empire secured a beautiful stalking spot in third early on under Rico Walcott, who swept both the weekend stakes events. Western Canada Handicap hero Najraan Breeze went right to the front and set the opening quarter in :23 with only light pressure from Risky Call. After getting to a half in a solid :46.40, Najraan Breeze came under a ride from jockey Nate Smith while Broadway Empire was just cruising up alongside and right on by.
"I just took him out into the clear down the backstretch," said Walcott. "He really took off though when I asked him to and he was really moving."
Broadway Empire opened up a big lead, and was guided home to win by eight lengths over Just Win Baby who was second, ahead of For Cash, who was third for the second consecutive time. Broadway Empire completed the mile in 1:38.20 and returned $3.80 for the win. Trainer Robertino Diodoro took the Western Canada Handicap with Najraan Breeze and now has another quality three year old in his barn.
"It's pretty exciting having two horses like this," said Diodoro. "It sure worked out well for Broadway Empire.
We're going to keep both horses here, but we're going to just take it day by day."
When asked by Northlands Television Host Crystal Leriger if they were "Derby Dreaming," Diodoro quickly replied "Always."
Ten Thirty dominant in the Red Smith
Ten Thirty got back to her winning ways on Friday Night as she dominated the 2nd running of the $50,000 Red Smith Stakes at Northlands Park. Sent off as the 3/2 favorite in a field of seven, Rico Walcott got Ten Thirty to sit second early on as the field went to the opening quarter in :23.40. Walcott roused her to the lead coming by the wire first time around and Ten Thirty did the rest. They carried a lead of three lengths down the backstretch as Portofappeal and I Raffaella gave chase. But that chase was futile, as Ten Thirty cruised into the stretch and poured it on late to win by six emphatic lengths. Portofappeal held onto the second position while I Raffaella ran a good third in just her second start. Ten Thirty completed the one mile journey in 1:40.00 and paid $5.10 for a $2 win wager.
It was the third career win for Ten Thirty who pushed her earnings up into six figures, as she's amassed 107,926 for owners Riversedge Racing Stables and trainer Greg Tracy.
"She ran way better today," said winning jockey Rico Walcott. "They added the blinkers and the assistant trainer Matt Williams did a ton of work schooling her and getting her right."
Clear The Runway gets back on track
Clear The Runway got back to his winning ways on Saturday as he won a thrilling $20,900 allowance/optional claiming event on Saturday. Clear The Runway, Bond James Bond, Jump Up and Kissme, and Up Jumps a Monster all came into the stretch with a shot to win, and the foursome battled all the way to the wire, with Clear The Runway and Rico Walcott holding on to win by a neck. Bond James Bond was second, just a neck ahead of Jump Up and Kissme, while Up Jumps A Monster was just another half length back in fourth, and he was rallying maybe best of all. So keep an eye on the 'Monster if he gets a little more ground next time out. Clear the Runway has now won two in a row, so keep an eye out for him maybe to jump back up to stakes competition soon
http://www.northlandspark.ca/news/latest-news/item/110-broadway-empire-a-new-star-at-northlands-park

DANCIN DAVID – BARBADOS GOLD CUP WINNER, DIES
 By Lindon Yarde | Fri, July 12, 2013 – 12:03 AM
The horse racing industry in Barbados has been dealt a major blow with the sudden death of 2012 Sandy Lane Gold Cup winner Dancin David.
His passing comes as a huge loss to owner Sir David Seale and the Hopefield Stable contingent.
WEEKENDSPORT understands that while being shod, the horse acted up, lost his balance and broke his pelvis. He also ruptured a major artery which then led to him bleeding and quickly dying.
http://www.nationnews.com/index.php/articles/view/sir-david-loses-dancin-david/
UNIVERSAL WINS AT NEWMARKET
Canadian International on the horizon
"The King George is the obvious race. Abdulla says wait a week, but if he's true to form he'll be ready again in two days, he thrives on his racing.
"The heart says King George, the head would maybe say things like the Irish Leger, the Canadian International and the Japan Cup."
– trainer Mark Johnston
http://www.irishexaminer.com/sport/king-george-may-be-next-for-progressive-universal-236697.html
SALT TEQUILA LIME
Facebook/Twitter abuzz with filly's death yesterday….
from one Facebook page:
"Absolutely disgusted by the senseless, needless death in today's sixth race at Hollywood Park of SALT TEQUILA LIME. She had refused to break in all of her starts off the layoff, refused to load in the gate today, Krigger beat her behind the gate until she finally loaded, she then once again stood there when the gates opened, Krigger whipped her to try and get her running as she trailed down the backside, she then broke down badly and had to be put down. By continually not wanting to load or break, she was trying to show she did not want to race, but O'Neill kept force feeding her to run until she finally gave her life. Isn't a trainer supposed to have their animals best interest in mind????"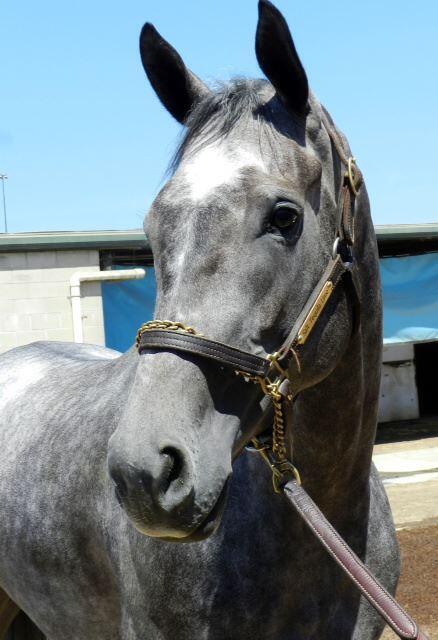 Salt Tequila Lime