Regis Racing roars! Woodbine Mile, waiting for the wise one and more!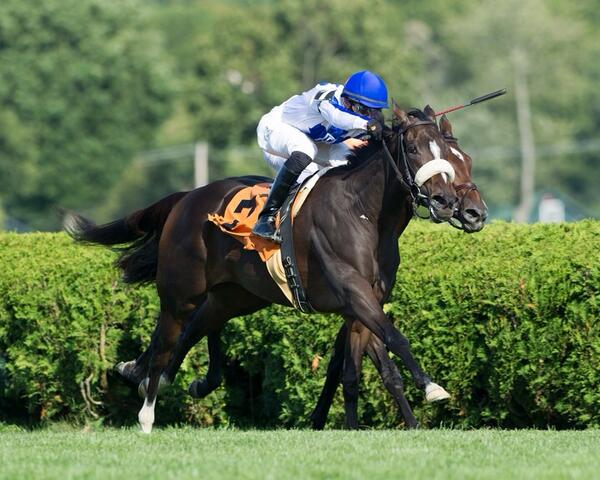 NYRA PHOTO – ZINZAY all the way, first win for REGIS RACING
100 BEYER FOR DIMENSION
Could come back in Woodbine Mile
As we wait to find out what happens as far as WISE DAN coming or not coming to Woodbine for the Mile on Sept. 15, there are plenty of contenders for the $1 million grass mile.
DIMENSION led all the way over the hard Woodbine grass to win the Play the King, while EXCAPER chased hard for second.
RIDING THE RIVER boucned back for a good 3rd place finish.
The winner had been 2nd to Essence Hit Man in the Bold Venture with a good rally and on Sunday, he just scooted to the lead in 22 1/5 and while there was more speed expected, most tracked the 10 to 1 shot and that left him with lots for the final furlong.
His time of 1:19 4/5 was fast and the 100 beyer puts him in contention for the Mile, shoudl trainer Conor Murphy decide to wheel the horse back.
TURRALURE, the Mile winner 2 years ago, is to race in the Bernard Baruch this weekend and how he does will decide the next move for stablemate Wise Dan.
WOODBINE MILE CONTENDERS
Top 10 list set to land on Thoroughblog home page
1. WISE DAN
2. DIMENSION
3. TURRALURE
4. EXCAPER
5. RIDING THE RIVER
6. TRADE STORM
7.  OBVIOUSLY
8.  KING KREESA
9. HE BE FIRE N ICE
10. TIGAH
WOODBINE SUNDAY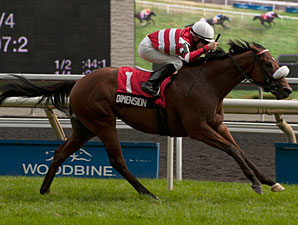 MICHAEL BURNS photo of DIMENSION
RECONNECT was an upset winner of the $100,000 Belle Mahone in race 4. The 5yo by Niigon – A Familar Face by Cloud Cover is a homebred for John Brnjas' Colebrook Farms. Ashlee Brnjas trains the stretch runner.
The race was supposed to go to the streaking SISTERLY LOVE, who had led all the way to win the Grade 3 Ontario Matron and Trillium Stakes. On Sunday, however, longshot MOONLIT BEAUTY was sent hard to the lead, cleared the favoured and essentially ran both her and the favourite intot he ground. The former finished last but Sisterly Love held on well for 2nd. She was pulled up quickly after the race by jockey Eurico da Silva.
The winner is 5 for 19 and she has won over $373,ooo. Jesse Campbells rode the winner as he enjoys a stellar season.
Congrats to John and Breeda Hayes, whose HONOLULULEMON won her maiden in race 2 on the grass, the first win for the couple this season. The winner was a $25,000 claim last September and she won a maiden allowance to boost her earnings to over $50,000.  There is a half sister to the filly in the open session of the Canadian Premier Yearling sale by Rebellion (hip 250).
Honolululemon is by Compadre out of Tapping N Turning by Pleasant Tap and Patricia Martin bred the 4yo.
Trainer DANIEL WILLS and owner JEANNE RYAN won race 3 with STAR PROSPECTOR, who led all the way through 5 furlongs to take the $11,500 claiming race. The winner is an 8 yo who is 14 for 56 in his career and he is a BC bred by Millennium Allstar.
The roll continues to trainer GREG COX as he won yet another race when his homebred 2yo colt WHY TIE THE KNOT, by Where's the Ring, won a maiden allowance in race 5. The dark bay gelding is also owned by Lisa McClallum Smith and Cindy Cox who are also co-breeders. The dam is U R Energy by Bold n Flashy. The winning Beyer for the 2yo was 60.
Another 2yo winner on the card was MONEY TALKS, an open length winner of race 9, an Ontario sired event. The winner is owned by RPI Stables and Natural Eight Stable et al and trained by Bill  Tharrenos. The winner is by Mobil out of Willow Wooddman by Woodman and was a $23,000 purchase and was bred by Fred Pace. His Beyer was 48.
DIMENSION AND HIS TRAINER, OWNER  CONOR MURPHY
Wild story on Murphy's big betting win..
http://www.drf.com/news/woodbine-notes-dimension-might-take-wise-dan-woodbine-mile
more at Daily Mail
http://www.dailymail.co.uk/sport/racing/article-2291792/Cheltenham-2013-How-Conor-Murphys-50-bet-turned-stable-lad-millionaire-trainer.html

REGIS RACING'S FIRST WIN
"I probably will never be in the winner's circle. I want to be in the stands," – Nat Rea, Woodbridge, ON
Nat Rea's REGIS RACING won its first race with its fourth starter when ZINZAY won a 2yo maiden allowance at Saratoga on Sunday to the tune of 19 to 1.
A small crowd gathered around TV's to watch the pretty Smart Strike – Music Room filly, a $700,000 2yo purchase, storm to victory in a 1 1/16 mile turf maiden race, posting a 73 Beyer.
Trained by Rusty Arnold, Zinzay is a sleek dark bay with a white stripe and the first 2yo starter for Rea.
The stable raced Golden Mystery and Moment of Majesty late last year and this year.
Just before ZINZAY won, MOMENT OF MAJESTY lost by a scant head in the Belle Mahone Stakes at Woodbine for trainer Roger Attfield.
Rea was not in the winner's circle at first glance in the Saratoga race.
The filly will not be heading to Woodbine for the Natalma but reportedly going to the Jessamine Stakes at Keeneland in October.
from BRISNET.COM
"I never expect them to pull out a victory," Arnold said. "I expect them to run well. She had trained well and we thought she had performed well, and that's all you can ask for a two-year-old first-time starter. Winning is just a bonus."
Zinzay is the first foal to race out of Music Room, an unraced half-sister to Music Note, who posted Grade 1 scores in the Beldame, Coaching Club American Oaks, Ballerina, and Mother Goose on the dirt; and Musical Chimes, a Group/Grade 1 turf star who captured the Poule d'Essai des Pouliches (French One Thousand Guineas) and John C. Mabee Handicap.
"She likes the grass," Arnold said. "Her works were better on the grass. I don't think she is going to see the dirt."
On Sunday, Zinzay tracked 4-5 favorite Hillhouse High in second before striking to the front in midstretch and asserting herself late under jockey Joe Rocco, Jr. Crown Queen, a half-sister to Royal Delta, finished 3 1/4 lengths behind the winner in third.
"She did everything right," Arnold said of Zinzay. "She acted good in the paddock, she acted good in the gate. She broke well and did everything the right way. We're very happy with her. She had trained well, but you don't know if they are going to do it until they do it."
Arnold said Zinzay likely will make her next start in the Grade 3 Jessamine on October 9 at Keeneland.
MORE ON NAT REA..
Read more on BloodHorse.com: http://www.bloodhorse.com/horse-racing/articles/80029/newcomer-rea-to-see-first-horses-race-soon#ixzz2dAWhipA8
WOODBINE LEADERBOARDS
OWNERS
1    Sam-Son Farms    63    12    10    8    $1,451,417    19%    30    48%
2    John C. Oxley    74    17    11    13    $1,433,115    23%    41    55%
3    Chiefswood Stable    56    11    8    7    $1,025,648    20%    26    46%
4    Tucci Stables    39    4    7    10    $973,075    10%    21    54%
5    Hill, Jim and Susan    50    12    7    8    $818,904    24%    27    54%
6    Bear Stables, Ltd.    84    18    7    12    $728,753    21%    37    44%
7    Melnyk Racing Stables, Inc.    53    12    10    4    $715,657    23%    26    49%
8    Rolph A. Davis    23    9    2    0    $408,221    39%    11    48%
9    Gary Barber    19    5    3    0    $407,983    26%    8    42%
10    Frank D. Di Giulio, Jr.    44    7    9    10    $397,824    16%    26    59%
TRAINERS
1    Mark E. Casse    242    51    35    27    $3,367,447    21%    113    47%
2    Robert P. Tiller    164    35    28    25    $1,706,064    21%    88    54%
3    Reade Baker    135    27    13    19    $1,509,284    20%    59    44%
4    David Cotey    149    17    10    18    $772,643    11%    45    30%
4    Michael J. Doyle    112    17    17    10    $762,284    15%    44    39%
6    Sid C. Attard    111    16    17    14    $731,119    14%    47    42%
7    Nicholas Gonzalez    116    15    21    12    $1,301,429    13%    48    41%
7    Kevin Attard    74    15    16    12    $540,674    20%    43    58%
9    Malcolm Pierce    86    14    12    14    $1,654,274    16%    40    47%
9    Josie Carroll    65    14    7    6    $806,756    22%    27    42%
9    Michael P. De Paulo    104    14    10    14    $519,181    13%    38    37%
12    Brian A. Lynch    72    13    17    17    $1,011,657    18%    47    65%
12    Roger L. Attfield    67    13    9    10    $896,582    19%    32    48%
12    Sam Di Pasquale    87    13    12    18    $716,260    15%    43    49%
JOCKEYS
1    Luis Contreras    478    93    81    71    $4,722,252    19%    245    51%
2    Eurico Rosa Da Silva    374    86    69    52    $5,047,702    23%    207    55%
3    Justin Stein    339    51    35    35    $2,730,020    15%    121    36%
4    Jesse M. Campbell    342    48    42    48    $3,334,720    14%    138    40%
5    Emma-Jayne Wilson    344    45    59    45    $2,501,104    13%    149    43%
6    Gary Boulanger    322    36    46    35    $2,007,943    11%    117    36%
7    Todd Kabel    318    35    34    41    $1,623,153    11%    110    35%
8    Skye Chernetz    288    32    28    30    $1,194,966    11%    90    31%
9    Tyler Pizarro    239    29    25    44    $1,443,394    12%    98    41%
10    Omar Moreno    204    22    24    24    $952,344    11%    70    34%
11    Steven Ronald Bahen    227    20    34    20    $1,318,641    9%    74    33%
12    David Moran    230    19    18    31    $1,105,209    8%    68    30%
12    Gerry Olguin    208    19    19    24    $885,518    9%    62    30%